In collaboration with The Embassy of France in Canada, Art of Festivals, and Alliance française de Vancouver, Team Nuage is developing a serious game that reflects the experience of what an arts centre can be and should be.

This future-facing choice-based digital simulation game will provide different scenarios and management cycles of a fictional multidisciplinary arts venue to stimulate critical thinking, identify future trends and provide a discussion basis for change management - The future of this cultural hub is in your hand ! 
Future Arts Centre
can be play
here
Project by
Team Nuage
, Master Students from
Centre for Digital Media:
Duration: 3 months 
Tools: Figma, Adobe Suite, Miro, Unity
Date: 2022
Objective:
Serve as an interactive training tool to educate culture professionals and leaders in the complexities of running an art centre and stimulate critical thinking and discussion around the current and future role of arts centres.
- Open source choice-based simulator game as training/coaching tool
- Ability to replay again to explore strategies (educational)
- 
Interconnected, realistic scenarios 
(relatable)
- Take time to make decisions (thought-provoking)
Need to have 5 main categories:
1. Policy
2. Artistic Development
3. Programming
4. Governance
5. People
Target Group:
Culture professionals & leaders (maybe non-gamers)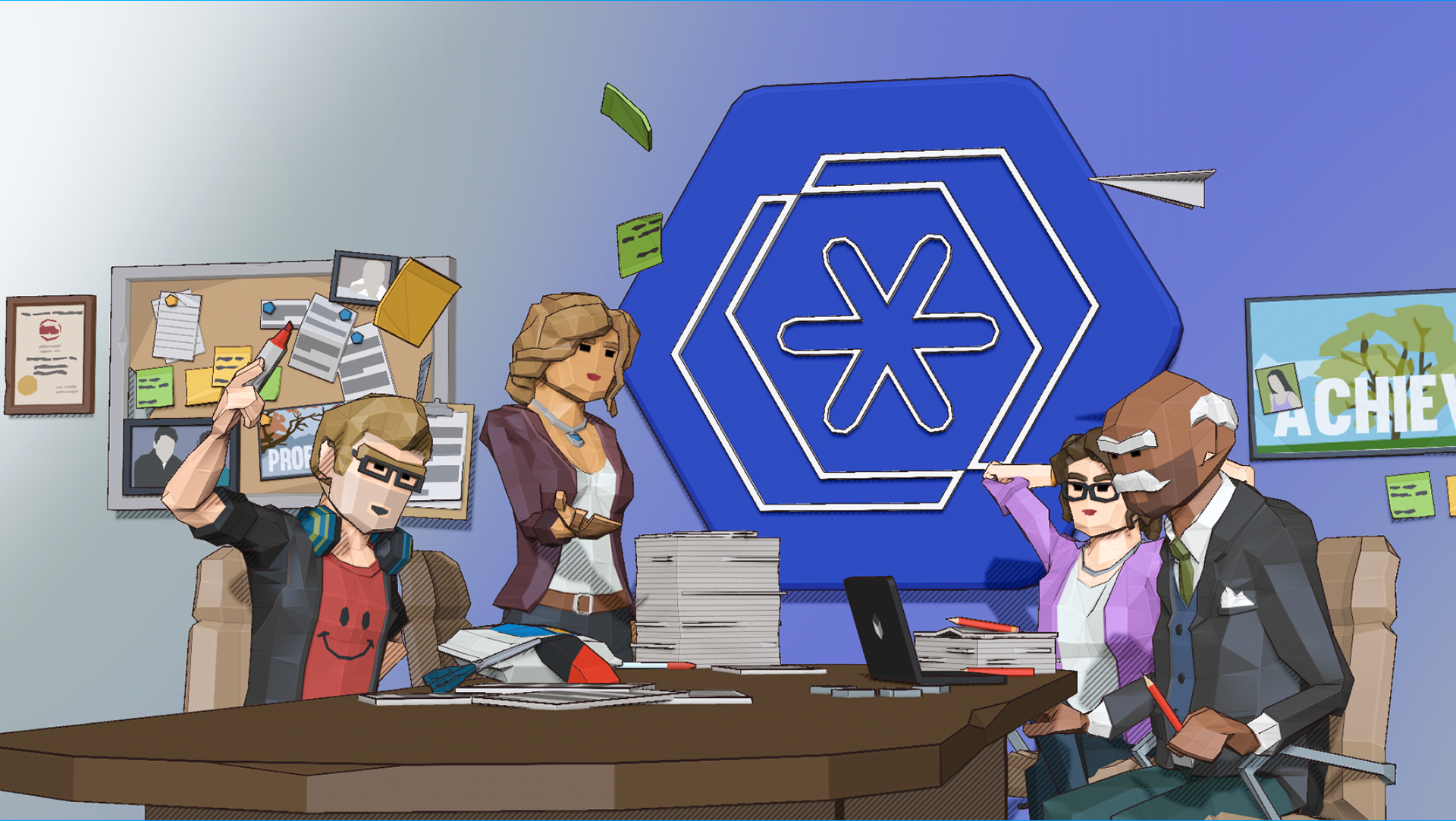 The introduction part features starting page, main menu, and some information to be fill in.
There is also some back story to onboarding the player to the game. 
Initial Strategic Choice
​​​​​​​
There will be five questions under each category, so there will be a total of 25 initial strategic choices for players to choose from in this phase. Each initial strategic choice will have two options (OpinionA and OpinionB)for the player to choose from. All the player's decision will determine the starting status of their Future Arts Centre.
After the player finish ISC, they will start the game immediately. In the game play, there will be 2 categories of event which are
Main Event,

d
irectly caused by the Strategic Choice. 
The player need to finish all the main events in this cycle to move forward to the next cycle. 
Side Events 
Triggered by an indicator reaching a specific value (low value for now). After the player finish all the main events, they will encounter an 

e
vent with social impact (ESI)
which allow the player to rethink and plan their ISC to improve their status. 
After 8 cycles of the game, the player will reach to an ending where they can see the summary of their performance. They can also winning an award if they are done well in any categories
As a team, we developed the game system together at first to figure out what needs to be create as the assets and screen types.
To conclude, the game is divided into 4 parts: 
2️⃣
Initial Strategic Choice (ISC)
We brainstormed for the look and feel for the game. The client didn't have any specific design in mind as the gave us creative freedom 😄 We wanted the user experience to be and interactive and easy to navigate around.
We digitized sketches and created low fidelity wireframes to work out the information architecture of each page.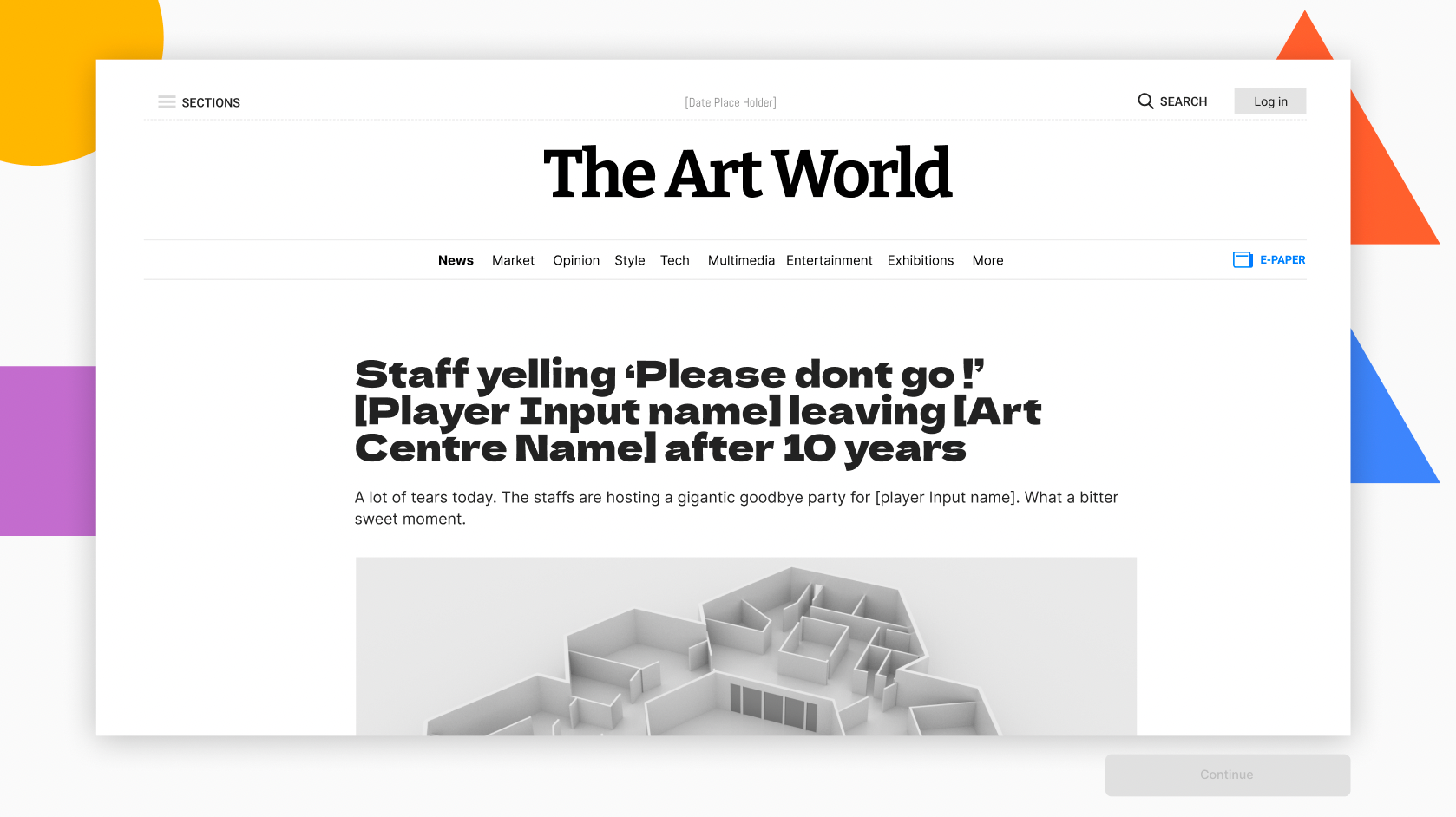 After we finalized all the pages we need, we also explored what kind of art style that can be used for the game. We took a look at a lot of game UI and other references from art gallery or community centre as inspirations. In the end, the client chose the option 3 - futuristic, cool tone, contrast for the final design. 
The final design reflects the futuristic design as we moving forward with the idea of 'future'. We used blue color, modern fonts, round edges hexagon shape as our key elements for the design. 

Take Away from the Project:

- At first we tried tackling brainstorming and tasks as a whole group, but it only resulted in long meetings with debates after debates. It worked much better when we divided up the work and put trust in our team members to do what they do the best.
- We also waited on the client to get all our content, but we realized later that we could use placeholder text to get on with the development. It was also difficult to lock down the content with minor revisions that kept coming through. So it was a good thing we had an extra week in case we needed more time.
- For our team, our developer hosted a Unity workshop for designers and it helps speed up the process. Designers who never used Unity before like me also get to learn how to integrate assets in Unity, and Developers can just hook everything up right after that. 
- For both our team and clients, English is not our first language so it would be good to align on the same terminology in the beginning to avoid any confusion. It also helps to explain things in simplified terms.
- I was a bit afraid to try our own ideas and relied on the client's approval. If I had more time, I would love to add those extra ideas to make our game even more fun. What the clients need is not necessarily what they ask for, so that's where we can step in.